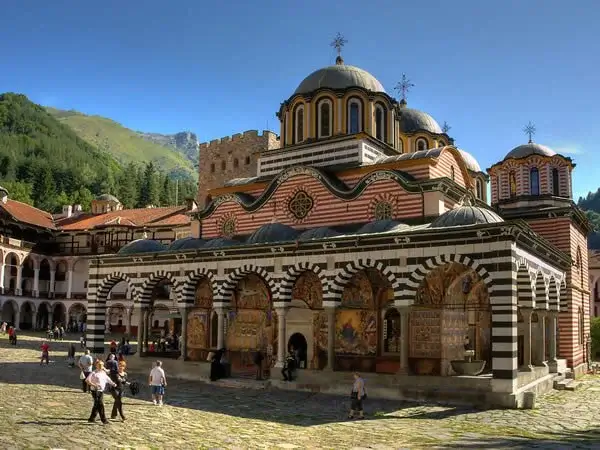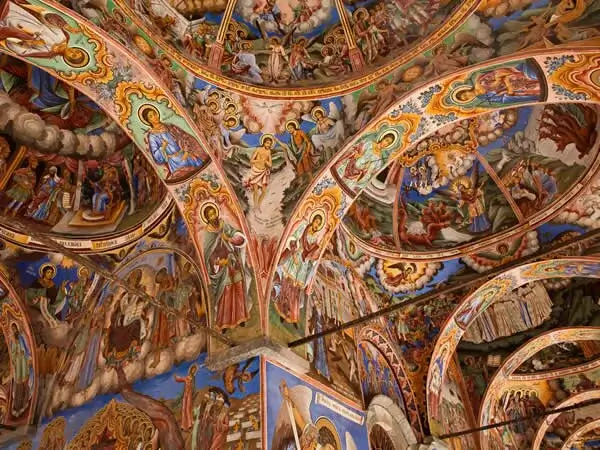 Located 100 kilometers south of Sofia, the Rila Orthodox Monastery is nestled among the imposing mountains of the Rila National Park and is included in the list of UNESCO World Heritage Sites.
The original monastery was founded here in the 10th century. The story goes that a 10th century Bulgarian courtier named Ivan Rilski (later known as St. John of Rila) retired as a hermit to the mountains of the Rila range to live in a narrow cave. His life of holiness attracted others who wanted to follow his example and he subsequently founded this monastery which was to serve as a refuge for all hermits.
The complex has three hundred monastic cells in an area of 32,000 square metres with a privileged view of the mountains and the nature surrounding the monument.
The Rila Monastery is the largest monastery on the Balkan Peninsula and thanks to its isolation and walls, monastic life continued within it during the five centuries of Ottoman rule.
Unfortunately, it was partially destroyed by fire in the early 19th century, which led to its reconstruction, but fortunately the undamaged buildings were preserved unchanged, so that it is still possible to enjoy some of them. fresh original, such as the exterior walls of the central church or the Church of the Nativitydecorated with colourful religious scenes depicting biblical characters.
As with all monasteries, the Rila Monastery has served as a cultural centre for all Orthodox and is considered a symbol of their identity. In addition to the frescoes in the chapels, its libraries and reading rooms are also outstanding, housing, among other things, the first Slavic books produced in Venice in the 16th century and other valuable exemplary manuscripts.
The monastery is also a good starting point for hiking in the beautiful landscapes of the area. In fact, there are numerous marked routes through the local forests.